Danish Dakota Friends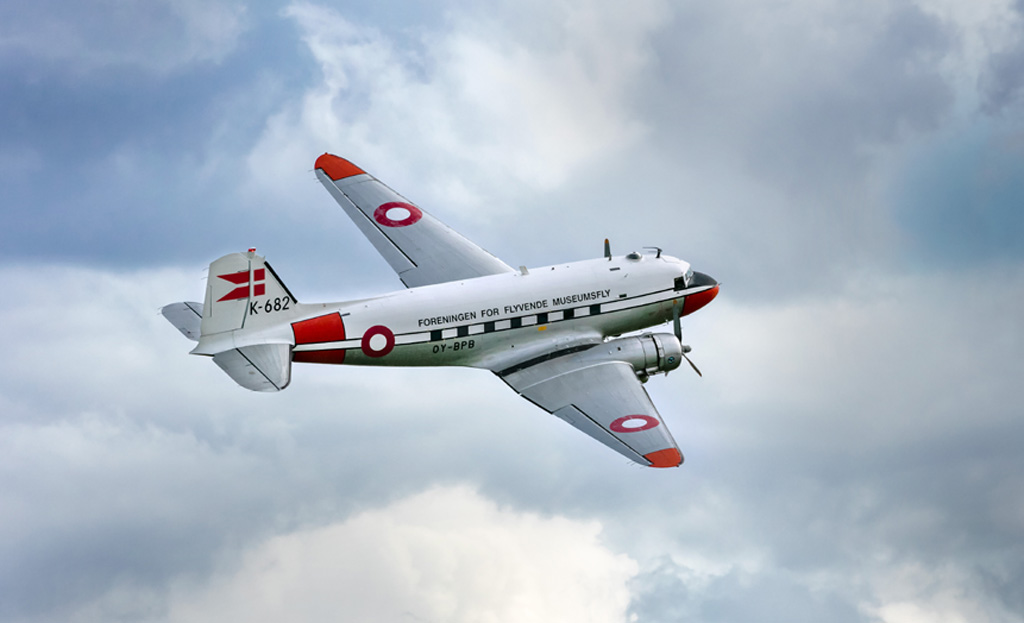 We are operating the last airworthy DC-3/C-47 in Denmark
Thank you for your interest in DC-3 Vennerne, a non-profit organisation operating the last airworthy DC-3/C-47 in Denmark.
Since the establishment of our organisation in 1992, we have been able to operate OY-BPB every summer (approximately between May and September). This is accomplished by a joint effort between certified mechanics, licensed pilots and ground staff, all working on a volunteer basis to enable fellow members to enjoy this magnificent aircraft and keep it in the skies.
We welcome new members to share the joy of supporting the mission and flying on board OY-BPB!
Membership
By obtaining a membership of DC-3 Vennerne, you will be supporting the ongoing effort to keep OY-BPB flying and you will be in good company with fellow enthusiasts. Due to legal requirements, it is mandatory to hold a membership in order to fly with
OY-BPB. A membership is obtained/renewed by calendar year (6 month memberships can be obtained at a special package rate bundled with a flight at special events i.e. at air shows).
Single 375 DKK
Household 475 DKK
International 475 DKK
To ease our administration, we welcome you to join DC-3 Vennerne online at www.dc3vennerne.dk/indmeldelse
and pay by Dankort, VISA, Mastercard or MobilePay.
For manual registration, please contact us at medlem@dc3vennerne.dk . Please include full name, mailing address, phone number (preferably mobile) and email address (should it differ from the one you are contacting us from).
Gift certificates
Gift certificates are available for membership as well as for a package combining membership and the first flight on board OY-BPB. Please contact us at medlem@dc3vennerne.dk for further information.
Magazine
Our magazine, "DC-3 NYT", is published 3 times a year (in Danish) and mailed automatically to our members.
Schedule
All flights depart from Copenhagen Airport Roskilde (except certain sightseeing flights). Our flight schedule is published annually in March and can be found in our magazine as well as online at www.dc3vennerne.dk/flyveprogram
Please observe that extra flights may be added throughout the summer according to demand. For questions regarding the booking process, please contact us at booking@dc3vennerne.dk
OY-BPB History
03-04-1944 Roll out, cn 20019, in Long Beach.
09-04-1944 Accepted by USAAF.
14-04-1944 TCC, Baer Field, Indiana.
29-08-1944 805. Base Unit, George Field, Illinois.
26-04-1945 Left George Field via Nashville, Tenn. for Montreal, Canada.
24-05-1945 Delivered to the Royal Norwegian Air Force (RNAF) under "Lend and Lease" Used by RNAF until June 1946 when it was leased by RNAF to Det Norske Luftfartselskab, DNL (The Norwegian Air Lines).
16-10-1946 Registered LN-IAT and named "Nordtind".
18-10-1946 Began scheduled flying.
20-10-1948 Painted in Scandinavian Airlines System colors. Retained reg. LN-IAT but renamed "Terje Viking".
15-12-1948 Taken over by DNL from RNAF – The price was 125,000 Norwegian kroner.
08-02-1951 Taken over by SAS.
30-07-1953 Last scheduled flight for SAS.
16-09-1953 Deleted from the Norwegian register.
01-10-1953 Bought by the Royal Danish Air Force (RDAF) from SAS – The price was 588,200 Danish kroner. RDAF serial 68-682.
01-01-1954 To ESK 721 (Squadron 721).
02-01-1955 Painted in camouflage colors (gray/green/blue).
15-12-1960 Reregistered K-682. Radio call sign: OV-JBM.
09-12-1966 Repainted in "VIP-colors": White top, two thin black cheatlines, silver bottom, day-glo panels on nose, tail and wing tips.
30-07-1982 Last flight for RDAF.
Handed over to Tøjhusmuseet.
06-08-1982 Stored at RDAF Base Værløse.
03-03-1983 Leased by Bohnstedt-Petersen A/S.
31-10-1983 Returned to storage.
21-02-1985 Taken over by Bohnstedt-Petersen A/S as OY-BPB. Retained RDAF colors. Orange panels partly overpainted. Used as a company plane, but also used for pleasure flights at airshows.
09-06-1992 Lent to The Association for Flying Museums Planes/Danish Dakota Friends as OY-BPB.
19-04-1996 Repainted in original 1946 SAS colors and named "Arv Viking"
28-08-1996 New #2 engine (very expensive – 300,000 Danish kroner). Flying time: app. 21000 hours.
Spring 1998: Repainted to the 1966 Royal Danish Air Force scheme. New #1 engine.
Spring 2001: Engine No. 43-144458 returned from an total overhaul in USA.
2004: 60th birthday and still going strong. Attended the 60 years anniversary of Operation Market Garden.
July 2008: New #2 engine, No. CP364299.
October 2008: Recently purchased engine No. CP359676 arrived from USA.
2014: 70th anniversary since delivery. Participation in the display flight performed to commemorate the 70th anniversary of D-Day.
Fall 2015: Engine #1 replaced with CP359676.
Summer 2016: Engine #1 replaced with CP364409.
15-11-2018 Taken over by The Association for Flying Museums Planes/Danish Dakota Friends.
11-18-2020 Taken over by DC-3 Vennerne – Danish Dakota Friends.
Contact
DC-3 Vennerne
c/o Per Søndergaard-Andersen
Langdraget 112
DK 3250 Gilleleje
Denmark
Updated 28.01.2023